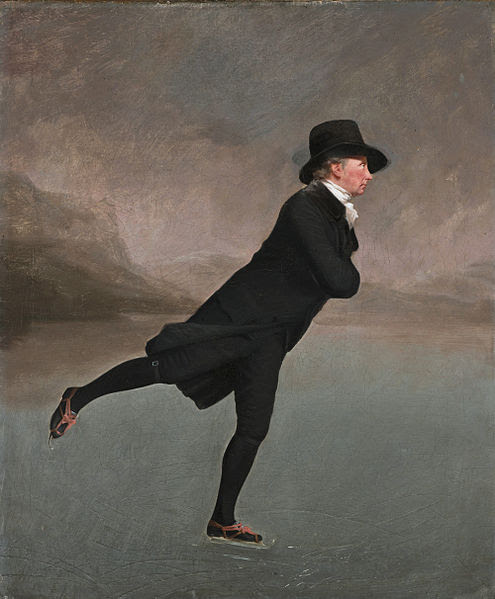 The Skating Minister – Henry Raeburn (approx 1790's)
Happy New Year.  There's a feeling around here – a positive, benevolent feeling of optimism as we say goodbye to 2017.  We survived.  The world didn't end because you know who is President and now we can all breath a sigh of relief and start to move on with our lives and focus our energy on other things than politics, division and scorn and maybe start looking at something more fulfilling such as charity and volunteering or clearing out the clutter.  I'm embarrassed to admit it, but I came across some very nicely packaged up Nasturtium seeds dated 2012 under a half a ton of "stuff" in the pantry when I cleaned it out a couple of days ago.
But aside from the clutter in the pantry, now is a great time to unclutter and clean out You.  Those 5 lbs of Christmas aren't doing you any favours.  Your cleansing organs, including your liver, kidneys and GI tract have been working hard to keep you healthy for the last 2 or 3 weeks so now's the time to atone for those cookies and chocolate and booze and turkey and stuffing and everything else we don't normally consume (at least on that magnitude).  Oscar's has a product that is selling well called Oscar's "Organ-Izer".  It's designed to support the liver, kidneys and pancreas as well as helps sooth the GI tract.  The ingredients include:Turmeric, Holy Basil, Cinnamon, Milk Thistle, Oregon Grape Root, Gymnema.  Oscar's "Organ-Izer" sells for $20. for a 2-ounce bottle.
For more information you can contact me via Text or Cell phone at 519-496-1888 or email me at brian@oscarsessentials.com.
Until next time.
Happy New Year,
Brian