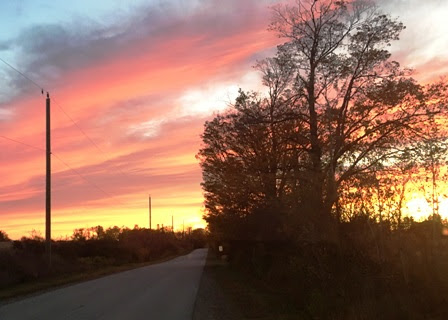 Sunrise on the Alps Road near Reidsville Ontario October 2017
Happy Thanksgiving everyone! It's been another wet few days and the temperatures are dropping. I'm not sure who's calling for a mild winter, but from the look of the temperatures lately it feels like it's coming sooner than later.
So what exactly is Thanksgiving anyway?  Is it the long weekend where you close up the cottage and bring the boat home for the winter?  A final lawn cutting or planting some bulbs around garden? I like how our Canadian Thanksgiving is in October and not the November date down south.  It's a great weekend to visit the many markets around here – especially the St. Jacob's Market.  What a place!  The colours this time of year are beyond words.  The vegetables – now nearly fully ripened with their reds and oranges and yellows.  And every little farm along the road is selling pumpkins of every shape and size and texture.  We bought 2-little pie pumpkins and a few squash from a farmer near Conestogo.  What wonderful little towns we have around here just literally minutes from our front door – quaint shops and tasty restaurants with menus that haven't changed much (other than the prices) in the last 50 years. Brian always orders the pig tails and a big draft beer – he's such a guy.
Other than Christmas, Thanksgiving is the day we tend to indulge perhaps a little too much.  There's nothing wrong with a little more turkey or an extra potato or another piece of pie.  No, we've earned it and on Thanksgiving let's dig in.  But also, don't forget about being thankful for our summer of growth and now our bountiful harvest.  Be in gratitude – for everything that's positive in your life.  Be in gratitude for a really good parking spot, or a beautiful sunset or the birds singing in the trees or just the fact that we are alive and kicking.
Anyway have a wonderful Thanksgiving weekend.
Karen Egoff