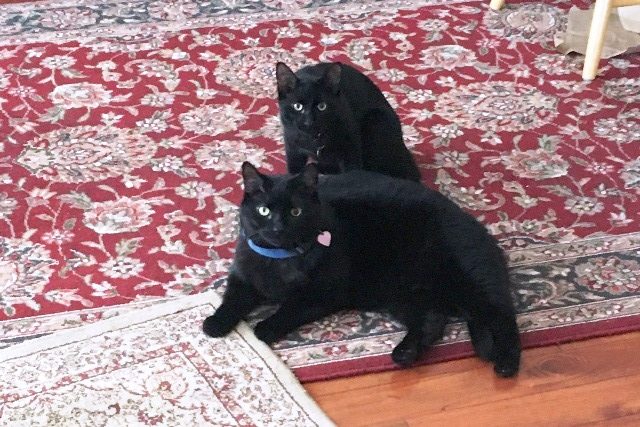 It's bound to spell trouble later when the little one wakes up from his afternoon slumber only to find that this may be the coldest night he's ever experienced. (We didn't let him outside until the spring of last year at 8 months old) Since then he doesn't spend a lot of time indoors unless he's sleeping or eating or bothering the big guy who prefers to be left alone or sleep beside daddy (Brian).
Elton as he's known online, will be 2 in August. It's bad enough coaxing him home in the middle of January. During the summer I can't imagine where he disappears to. He's out about 4:00 PM and comes home on his own sweet time – actually just about as breakfast is being served to his brother – after sunrise, between seven and nine AM. There's three or four other cats in "da hood" that are usually out all night. He either likes them or doesn't depending on what mood he's in or some other unknown reason that only cats can understand. Maybe he gets irritable from being "backed up" from mice and kibble. He usually keeps it within earshot in "da hood".
We have squirrels, raccoons, skunks, fox, hawks and eagles and probably coyotes from time to time although I've never seen one around here. It's my understanding that all of the above excluding coyotes, are just trying to go about their own business – hunting mice, frogs, grubs and the like, not hunting tigers, or more literally, panthers. They're both "nighttime black", and it takes a really trained eye to see them once the sun goes down. Oh, and they're both really big.
Buddy, the 8-year old is growing old age pretty fast. He's a big boy anyway, but he's put a few on since Oscar, or "the godfather" crossed the rainbow bridge 2-years ago. During the summer he's still apt to stay out for the night 3 or 4 times a week, but he keeps it pretty close to home. That being said, I see the two of them crossing the street some mornings, so I know they've been up to no good, probably stealing their neighbour's kibbles. But lately, you have to drag him outside for a few minutes of fresh air. When he does go out, he still sniffs thigs, rubs his catnip, goes around the house, does his business and waits at the front door watching the dogs go by. I suppose at his age I didn't do as much as I did, so let him enjoy his life as he pleases.