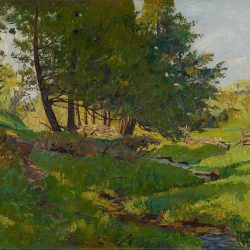 Welcome to June.  I want to apologize for the lateness of this month's newsletter.  I have been working like crazy getting things planted and the garden in shape for another round of summer.  (Let the games begin!)
I ordered a lot of plants online this year.  A lot of plants.  That's one of the problems with Internet shopping – it's like, "Oh a couple of these and a flat of those and something for the back corner".  The next thing, this box shows up on the front porch with enough tomato plants and Ornamental Cayenne Pepper plants and things that looked exotic and "cool" like Columbine, Horseradish, Chinese Lanterns and about a dozen others awaiting my "Immediate Attention!".  It's going to be interesting in the gardens around here in a few weeks when things start to grow and compete with each other.
Remember Karen's sickly and dying Sage Bush from last month's Newsletter?  Well I'm happy to say that it's back and may be the healthiest plant in our yard.  Watch out Lavender – Sagie is back and looking good.  I might just be seeing a Sage smudge stick and maybe even a tincture or two.  But there is nothing that marries up like Sage and Poultry.  In a stuffing, in a soup or sprinkled over white meat before you put it on the smoker for several hours, or on the plate next to a side of roasted vegetables (from the garden?) and some mashed sweet potatoes.  It is absolutely one of my favourite spices in the rack.  When Karen Smudges the house after a session or just because, the smell of smoldering Sage leaves is so cleansing and uplifting.  Everyone should smudge.  And as a Herbal Supplement either in a capsule or as a tea, or as a Tincture, Sage enjoys a great reputation among women who take it for Hot Flashes.  It is also a great Herb to relax the entire Nervous System.
I have also been making the Sage in a Aromatherapy Spray.  Just as Karen Smudges the house, the Sage spray applied throughout the house will remove positive ions, get rid of the other negative energy that can permeate your abode and reduce your stress and unease.  These sprays are available now for $18.00 + HST.  You can reach me through email at brian@oscarsessentials.com or on my Cell at 519-242-4996.
Cheers,
Brian
"Play is often talked about as if it were a relief from serious learning. But for children play is serious learning. Play is really the work of childhood."
– Fred Rogers
Robert Bateman – Geese & Gosslings